Si conclude oggi la serie estiva di post in lingua inglese dedicati agli amici TGS Eurogroup oltre i confini nazionali. Allo scopo di raccontare l'Estate TGS 2020, grazie alla mailing list dedicata "Friends of TGS Eurogroup" raggiungiamo tutti i nostri amici, collaboratori, volontari che operano assieme a TGS Eurogroup in Gran Bretagna, in Belgio e in tutta Europa, con i giovani e per i giovani, attraverso molteplici progetti internazionali che ci vedono protagonisti assieme.
Buona lettura!
Dear Friends, as the warm season is coming to a close, here we are to give you a full account of the latest TGS activities we planned for this TGS Summer 2020!
In previous communications (did you miss any newsletter? get all of them in our "TGS On Line Newsletter" web page!) we presented our TGS Summer Camp in Mogliano Veneto and Venice, reproducing the main features of a typycal TGS Summer stay in the UK here in Italy, as travelling abroad was simply not possible. We also informed you about the "TGS Summer Camp On Line", an extension of our Camp on site, giving us the opportunity to stay connected with our friends and associates abroad. Finally, we presented the "Up and Down the Veneto", a number of cultural tours to help discover the beauties in our Veneto Region and keep in touch with all the volunteers helping us with the solidarity walk "Up and Down the Bridges of Venice" every year.
On this forth and last edition of the "TGS On Line Newsletter" we'll tell you more about Up and Down the Veneto and its final instalment in Venice, the "Up and Down Trial", taking place last Sunday, 27th September 2020, the very same day of the "TGS Back Together" reuniting students, parents, families and leaders of the TGS Summer Camp for a final gathering to celebrate the end of Summer. In some sort of way, all TGS activities and experiences we conceived for this unprecedented TGS Summer 2020 came together to a natural close in Venice, once again.
Up and Down the Veneto / Up and Down Trial
5 events in 5 province seat cities of our Veneto region, guided by local TGS Volunteers, engaging all participants in fascinating cultural tours. We started from Verona, the city of love, in early July, then we moved to Vicenza, renaissance city signed by famous architect Andrea Palladio, later that month. In August we stopped by Treviso, medieval town with a close relationship with its many canals, rivers and water ways. Then in September we discovered Padua with its precious frescoes by Giotto as well as Europe's first university botanical garden in history.
Our fifth and last event was held in Venice: a true homecoming for all of us! All our "Up and Down" Volunteers were in Venice at the beginning of March for the last time before the national lock down caused by the pandemic, so we all celebrated our coming back to Venice on 27th September 2020 as some sort of liberation day indeed.
That very same day was World Tourism Day, celebrated by the United Nations World Tourism Organization. World Tourism Day has been commemorated on 27 September each year since 1980, a date marking the anniversary of the adoption of the UNWTO Statutes in 1970. Sustainable tourism has been always highlighted in our "Up and Down the Bridges of Venice" event, helping thousands of people discovering a hidden Venice, far from mass tourism stereotypes.
Once again, as the final leg of our "Up and Down the Veneto" Summer tour, we chose Venice as the ultimate destination with a special event called "Up and Down Trial": that's the official route test for the next edition of the solidarity walk. That was an opportunity for our volunteers to get back in touch with all our associates in Venice and, at the same time, to officially launch the awareness campaign for the 42nd "Su e Zo per i Ponti di Venezia" ("Up and Down the Bridges of Venice"), which is currently planned on 18th April 2021, hoping that big social gatherings will be possible again by then.
Have a look at the picture books on our Facebook page:
Watch the live coverage of the "Up and Down Trial" on our Facebook videos page:
TGS Summer Camp / TGS Back Together
Our newest educational project, TGS Summer Camp, was a great experience for quite a few young people last Summer: all students and their families, as well as our TGS Leaders, were very happy and grateful for such an opportunity, so much so that we decided to bring this project forward and maybe expand it as well in the years to come. It's been certainly an enriching group experience for everyone involved and the students themselves demanded more opportunities to gather! Could we possibly let them down? Surely not.
That's why we organised an extra event simply called "TGS Back Together 2020" and we invited both students and their parents to come to Venice together and enjoy a day out with some TGS Leaders and TGS Committee representatives. The event took place last Sunday, 27th September 2020, on the same day of the "Up and Down Trail". Our students played a big Treasure Hunt all around Venice, while their parents enjoyed a fascinating cultural tour, also including a guided visit of the Fenice Opera House.
All three groups of TGS associates (students, parents and "Up and Down" volunteers), although engaged in different activities throughout the day, all attended an initial and final moment together: on one hand, a way to start off the day out together with a morning prayer upon arrival in Venice; on the other hand, a way to share and cherish the moments spent together at the end of the day.
Have a look at the picture books on our Facebook page: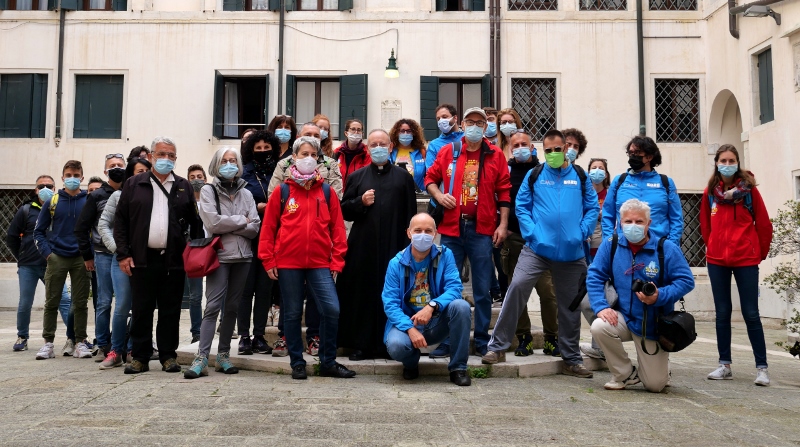 We hope you enjoyed reading our TGS On Line Newsletters all Summer long. Any feedback or comments you would like to share with us? Feel free to e-mail to blog@tgseurogroup.it and we would be more than happy to read about it!
What next? TGS Committee is currently getting ready to develop a full programme of activities for 2021. Want to know more about our future plans? Drop us an email and we'll get back to you about it, or simply follow our blog posts on TGS Journal for the most recent news about our association.
Until then, take care and we hope to see you soon!
TGS Eurogroup