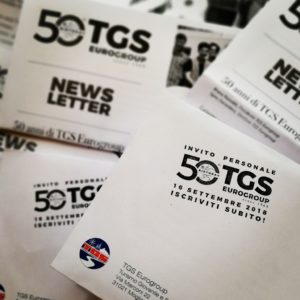 Mentre mancano pochissimi giorni alla chiusura delle adesioni a TGS50 per i volontari e collaboratori TGS Eurogroup (le adesioni a TGS50 sono prorogate fino a domenica 9 settembre 2018! Visitate la sezione dedicata del sito web TGS Eurogroup con il programma della festa e compilate il modulo di iscrizione on line!), abbiamo il piacere di annunciare che una piccola rappresentanza di collaboratori inglesi dell'Associazione ha già confermato la propria presenza per il week-end del 15 e 16 Settembre 2018!
Tra essi spicca la partecipazione di Maggie Anderson, storica collaboratrice TGS Eurogroup che in Gran Bretagna ha il ruolo di "TGS UK General Manager"! Maggie sarà accompagnata dal marito Ray e per loro sarà una festa nella festa, dal momento che quest'anno festeggiano il 50° anniversario di matrimonio! Una coincidenza davvero significativa con la festa per i 50 anni di TGS Eurogroup!
Rileggiamo dunque l'articolo di presentazione di TGS50 in lingua inglese, così come compariva nella "TGS Newsletter no. 28 – UK Edition" inviata lo scorso luglio a tutti i nostri collaboratori inglesi!
50 years of TGS Eurogroup
It sounds unusual to get our newsletter at this time of the year, as traditionally there is a long break between Easter and Christmas. In our last report, we disclosed why 2018 would not be a conventional year for the Association: TGS is celebrating its 50th Birthday – so experienced and so willing to experience at the same time!
50 years are enough to grant two generations to participate in our holidays. At our last meeting with the students' families on 9th June, we introduced some former TGS students now becoming TGS Leaders. We also met some former leaders now acting as parents instead of volunteers – their children are leaving with TGS in the Summer. That's part of the story of the Association, with a number of students, volunteers and supporters spreading the word year by year since its birth in 1968. A development that has involved educational and training activities in the field of youth and social tourism as well as well.
We have been working to get ready for the celebration that is to take place in September. A two day celebration which is meant to be a great chance to meet old friends, share good memories and start developing new plans for the future… don't you think these reasons are good enough to join us?
Celebrations start on Saturday 15th September. You are all invited to a fascinating afternoon boat tour in the Venice Lagoon. The meeting point is just outside the train station in Venice. The boat will be waiting for us and will allow us to enjoy an amazing sightseen tour of Venice reaching the Giudecca Canal, St. Mark and stopping at Burano. After exploring the island widely know for its brightly coloured homes and lace goods, it will be the time to move to Torcello, an island nearby, famous for the timeless atmosphere of its main avenue and homes. Then we can't miss a stopover at San Giorgio Island, former headquarters of TGS Eurogroup. This is just opposite St. Mark's Square, where our cruise will finally end.
What follows next…? A relaxing stroll through the narrows streets in Venice and then dinner, if it pleases you, with a typical course menu at a local restaurant.
Sunday 16th September: celebrations are to go on in Mogliano Veneto, where our headquarter is. The meeting is at 10 o'clock in the morning and you will have the chance to meet TGS friends and spend time together. We will retrace the stages of our story and bring to your attention the projects we are developing for the future.
To follow, we will attend the Holy Mass and gather for lunch in the dining hall at Collegio Astori. As every celebration deserves, cakes are welcome! We will host the TGS 50th Birthday Cake Competition with cakes created by talented TGS friends and selected by a designated panel.
This is what we have been planning so far. The programme may be subject to slight variations but generally it is set as described. You might wish to take part to the two day celebration as well as to join TGS just for one day. Feel free to e-mail us at tgs50@tgseurogroup.it for any further information. We are available to help you find accommodation too.
The sooner you get in touch, the more you help us. However, it would be of great help if you enrolled within 1st September.
Our joy will be more complete if you will join us to celebrate. Meeting you and your family is very important for us. It is a token of a strong Salesian experience we had the chance to live together and that is still a lively memory in your hearts as well as in ours.
Alessandra
E' possibile prelevare la TGS Newsletter n. 28 – UK edition con il testo integrale dell'articolo e il modulo di adesione dalla sezione Download del sito web TGS Eurogroup, oppure cliccando l'immagine qui sotto.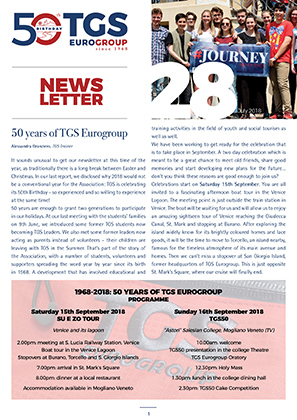 TGS Newsletter no. 28, July 2018
(UK Edition)
Arrivederci al 15 e 16 Settembre 2018!
lo Staff TGS Eurogroup